Cancer: Neuroblastoma
Consortium: International Neuroblastoma Risk Group (INRG)
Headquarters: University of Chicago
Website: inrgdb.org
Consortium Manager: Suzi Birz, sbirz@bsd.uchicago.edu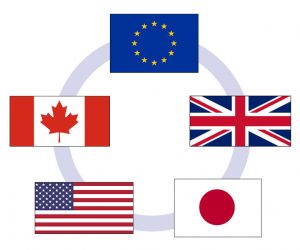 The INRG task force has established a database containing information on over 22,000 children with neuroblastoma from around the world. These data are available to investigators from around the world for data mining studies, and significant discoveries have already been made using this unique resource.
The patient data included in this database comes from cooperative groups: Children's Oncology Group (COG), Gesellschaft für Pädiatrische Onkologie und Hämatologie (GPOH), Neuroblastoma Committee of Japan Children's Cancer Group (JCCG), Japanese Infantile Neuroblastoma Co-operative Study Group (JINCS), and Society of Paediatric Oncology Europe Neuroblastoma Group (SIOPEN). The amount of data continues to expand, as the cooperative groups have agreed to update existing patient data and add new patient data once clinical trials are completed and the objectives of the trial are published. In addition, efforts to add data on relapsed patients as well as new genomic data including ALK mutations and segmental chromosomal aberrations are ongoing. Radiographic and pathology imaging data will also be uploaded in the future. The architecture housing the database has been transformed to a new web-based system with technology that enables linkage with other databases. This new ecosystem, the INRG Data Commons, has enabled the connection of the phenotype data to the Children's Oncology Group (COG) Biopathology Center at The Research Institute at Nationwide Children's Hospital that contains banked neuroblastoma tumor tissue from COG patients. Links to genomic data in GEO and TARGET have also been established. Thus, in addition to clinical information, investigators are now able to determine if banked tumor tissue or genomic data are available for research studies on specific cohorts of patients. We anticipate that the INRG Data Commons will facilitate international, multi-institutional, interdisciplinary research in childhood neuroblastoma, advance our understanding of the pathogenesis of this neoplasm, and ultimately lead to the development of more effective treatment strategies for children with neuroblastoma.
Related work: NCI Di-Cubed Data Integration